Open Source Sprints (Drupal, WordPress & Joomla) in London
8 October 2017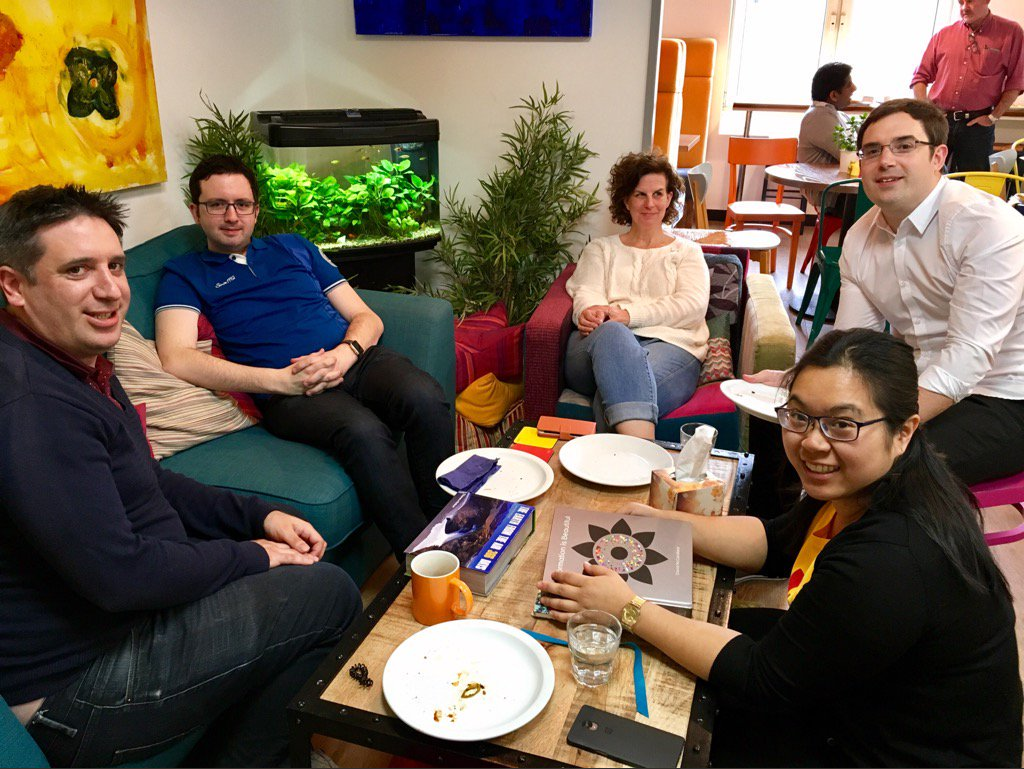 Above is the closest photo to seeing pizza, empty plates! That's because the pizza and conversation was so good it was impossible to stop to take a picture.
Sprinting
It was great to see Vijay Chandran present too. He's one of the most active Drupal 8 core contributors and regularly in the top 25. I consider him a close friend as we've known eachother from the Drupal London community for a few years now. Although we split into groups to work, myself, Vijay and a few others could be found talking to our new friends and getting to know eachother better. In the picture below you can see him speaking with one of the WordPress contributors discussing a technical problem.
Vijay and Robert also helped me to finally release my first Drupal contrib module, Features Advanced Expander.
Community mixing
Robert Castelo (Drupal) has been organising Drupal events in London for over a decade. He's referred to by many as the Drupal godfather of the UK. His contributed modules and themes have many thousands of installs. He has organised Drupal sprints before such as Global Sprint Weekend at the same venue in January 2016, but it was good to see the same concept being spread a little more as bringing a few more people along doesn't take that much more organisation.
Jenny Wong (WordPress) is one of the organisers of WordCamp, has previously been to DrupalCons and other events, and I've personally bumped into her at PHP conferences. She's such a great community person and it was a pleasure to hear of how she pushed for a creche to be provided at WordCamp to increase the accessibility of the event to parents. This is something I would glad to see at some Drupal events one day.
Brian Teeman (Joomla) is one of the co-founders of Joomla and is very personable and friendly. If you're around him for more than a few minutes, chances are you've already laughed at one of his jokes. He is a regular visitor to the North West Drupal User Group in Manchester and occasionally gives talks there too.
Collaborating together makes you realise that although our respective communities are a little different, the fundamentals of wanting to contribute to open source, and make the world a better place are a great thing to share and see that we all have in common. This made for some great conversations in the breaks and afterwards in the pub.
It's worth remembering regardless of CMS choice, all open source people get thirsty after a hard day of contributing and enjoy a bit of liquid refreshment!
Subsequent sprints
There was another Open Source Sprint organised in September at Manifesto's offices , but unfortunately I was unable to attend as was attending DrupalCamp Belgium the same weekend.
We will hopefully be organising another one soon, I'm looking forward to it and sharing the story with you.